Summer vacation. Parents around the country either dread or revel in these two words.
Yes, we love having our kids home without the stress and routine of school. However, it can be difficult for kids to entertain themselves for three whole months. All too often, parents end up with an over scheduled child during the summer, and by the time Labor Day rolls around, everyone is exhausted and impatient for school to start. If you work at home, it's even harder to keep your kids entertained over the summer while taking care of your regular tasks.
Maybe it's time to slow down and focus instead on some simple, budget-friendly activities that are easy and fun to do, balanced with a healthy dose of boredom.
The Gift of Boredom
Stop and think about the summers you spent as a kid. Chances are, your days weren't full of scheduled activities and structured play dates. For most of us, summer meant freedom — freedom from school, freedom from schedules, and freedom from routine.
We had the freedom to lie in bed late into the night reading books. We had the freedom to build forts, ride our bikes aimlessly through the neighborhood, and explore the woods at our leisure. We also had the freedom to be bored.
Today, boredom is often treated as a problem that needs to be fixed immediately. However, boredom has invaluable lessons to teach if it's given enough time and space to do so. Boredom encourages creativity because kids have to learn to entertain themselves instead of being passively entertained by something or someone else. It builds self-awareness because kids are forced to be alone with their thoughts and feelings.
As a mother of two, I realize that summer is a challenging time for parents. On the one hand, we want to give our kids that same feeling of freedom we had growing up. Freedom and boredom are great for kids, and most kids today don't get enough of either of these things. On the other hand, we also need to have some fun, budget-friendly ideas in our arsenal for when our little darlings ramp up the whining and claim that there's never anything fun to do, ever.
So, here's what I propose we not to do. Let's not try to have "the best summer ever." Let's not try to create three months of perfect, idyllic, Instagram-worthy afternoons that our kids will never forget (at least until they're bored again tomorrow).
Instead, let's let our kids be kids, and when the fighting becomes incessant and there's glitter all over the house, we can pull out one of these activities and redirect the troops long enough for some cleanup time (or a glass of wine on the back patio, which is sometimes the smarter choice).
Some of the ideas below will require your supervision and some won't. But all of them will help you limit your kids' screen time and help them have some fun in the process. They might even learn a thing or two.
Enjoy Nature
1. Go to a Local U-Pick Farm
Expose your kids to the joy of picking their own summer fruit. Strawberries, raspberries, peaches, and blueberries are all popular choices at U-Pick farms. You can find a U-Pick farm close to your area through LocalHarvest.org.
2. Watch a Nature Cam
Would your kids like to go on a virtual safari? How about peeking into a falcon's nest?
There are some amazing nature cams set up by universities and conservatories all over the world, and they can be a fun and educational way for your children to learn about nature. Some live cams to check out are:
Although these nature cams do put your kids in front of a screen, they can also be a powerful learning tool and help spark a lifelong passion for animals and nature.
3. Backyard Camping
You don't need to hit up the woods to go camping. If you have a tent, set it up in the backyard and sleep outdoors with your kids. You can also let them play in the tent during the day, as long as you don't care about its condition when the day is over. They could turn the tent into a fort, a spaceship, or anything else they imagine.
4. Make a Bug Maze
Summertime means bugs, and lots of them. Teach your kids to care for bugs and let them learn a bit about science in the process by building a bug maze.
A bug maze is relatively easy to make. All you need is a medium-sized box, large or jumbo-sized Popsicle sticks, cardboard toilet paper or paper towel tubes, tape or hot glue, and some paint if you choose to decorate the maze.
Start by painting the Popsicle sticks different colors (again, this step is optional). Create a maze within the box by putting the sticks on their sides and securing them to the bottom of the box with the tape or hot glue gun. Use the cardboard tubes to create tunnels for added interest.
Next, send your kids out to carefully collect some bugs (caterpillars and stink bugs work well for this activity). Use this time to teach your kids about being gentle with the bugs, and show them how to handle the bugs carefully so they don't get hurt.
If you don't like the idea of using real bugs, you can use HEXBUGs for this activity. But there's nothing like using real bugs to create a great learning opportunity for kids — as long as they're careful with the bugs and release them back into nature when they're done.
5. Join the Junior Ranger Program
The National Park Service (NPS) Junior Ranger Program is an activity-based program that helps children learn more about their state and national parks. Once they join, they complete a list of activities while in the park and then share their answers with a park ranger. When they finish the program, they receive a patch and certificate.
Many state and national parks participate in the Junior Ranger Program. You can find a full list of participating parks at the National Park Service website. If you don't live near a park or don't plan on visiting one this summer, don't worry; your children can still join the program and earn badges at home using the Internet.
Arts & Crafts
6. Giant Canvas Painting
Do you have a stack of old sheets in your house? If you haven't used them in a while, drag one of them out and spread it out on the grass. Dig out your paints and let your kids release their inner Van Gogh by painting all over the sheet.
If you don't want to ruin the sheets you have, check out thrift stores and garage sales to pick up some inexpensive extras.
7. Homemade Bird Feeders
You can make a bird feeder out of an old milk carton, an empty water bottle, a piece of crusty bread, and dozens of other things you probably have around the house. Happy Hooligans has a great list of 32 bird feeder projects to keep your kids busy.
8. Marble Ramps
You know those floating noodles most kids take to the pool? Pick up a few at the dollar store and carefully cut them in half. You now have two "tracks" that make perfect ramps for racing marbles.
9. DIY Sprinkler
Sure, you could buy a kids' sprinkler for $15 at Walmart, but it's cheaper (and much more fun) to make your own.
All you need for this activity is an empty two-liter soda bottle and a male-to-male adapter, which costs $5 or less at any hardware store. To make the sprinkler, poke holes in the soda bottle and attach it to the end of your garden hose using the adapter. Throw the hose over a tree branch and turn on the water.
10. Duct Tape Racetrack
If you have a roll of duct tape, let your kids make a racetrack (inside or outside) for their cars and other vehicles. They can create any number of patterns and loops with the tape to make their racetrack more intricate, and if you have colored duct tape, that makes it even better. If you don't, kids can draw lane lines on plain duct tape with a marker.
11. Paratroopers
I had endless fun when I was a child playing with those little plastic parachute troopers. They're hard to find these days, but it's super easy to make your own.
All you need is a square of fabric (or a cloth or paper napkin), scissors, a hole punch, yarn, and a little guy to be the paratrooper. Creating the parachute is fairly self-explanatory, but you can find full instructions at No Time for Flashcards.
If you don't have any good launch sites at your house, take your kids to the playground and let them drop their paratrooper from the top of the slide or play structure.
12. Play with Tinfoil
What could your kids do with an entire roll of tinfoil? Pick up a few inexpensive rolls at the dollar store and let them go to town.
One way to play with tinfoil is to make a "river" outside. Have your kids roll out a long section of tinfoil and turn up the sides. Take out the water hose or watering can and pour the water down the length of the river. If your kids are really industrious, they can make tinfoil boats to race while the water is flowing. They can also use tinfoil to make a road for their cars and other vehicles.
After this, you can use that tinfoil in painting projects. Kids can paint directly on the tinfoil, which gives the paint a beautiful metallic look, or use the tinfoil as a "brush" to create different textures. You can also roll used tinfoil into balls or use it to make interesting textures in Play-Doh.
When your kids have exhausted their imaginations with the tinfoil, simply recycle it.
13. Balloon Rockets
A simple balloon can teach your kids about scientific concepts such as action and reaction, gravity, and force. One fun example is balloon rockets.
Balloon rockets are easy to make; all you need is yarn, duct tape, a straw, and a balloon. You can find instructions at DiscoverExploreLearn. You can also make a simple rocket your kids can launch themselves using a straw and a rocket template; instructions for this are at Buggy and Buddy.
14. Rock Painting
Gather several small to mid-sized rocks and let your kids draw on them with paint or fine-tipped markers. Higher-quality markers (like colored Sharpies) will work better for this particular project. There are dozens of different ways to paint rocks; you can see a comprehensive list of ideas at Mama In The Now.
One fun approach is to paint facial features on each rock. This is a great outdoor activity! Paint several different types of eyes, noses, and mouths on several rocks, with each rock containing one feature. Then, encourage your children to mix and match the rocks to create various funny faces. Your kids could also paint the rocks to look like snowmen. Paint them white and then decorate each rock to look like a different "level" of the snowman: the bottom, the middle, and the head.
Another idea, which can help build children's imagination, is to create "story rocks," or rocks painted around a central theme, like "the jungle," "the sea," or "camping." For instance, if you choose "the sea," you could draw a different sea-related item on each rock, such as a ship, pirate, dolphin, and treasure chest. Your kids can then use the rocks to create and tell a visual story.
15. Recycled Robots
This is a great activity to do once your recycling bin is full. Have your kids raid the bin and gather materials they can use to build their own robots. An empty oatmeal cylinder makes a great body, for instance. Toilet paper tubes can be used for arms, and an empty egg carton can become a "switchboard" on the body. Supplement the recycled materials with items like screws and nuts, paint and glitter, pipe cleaners and feathers, and your kids will have a blast creating their robot works of art.
16. Bubble Wrap Painting
Save the bubble wrap from a recent move or online purchase and let your kids use it for painting. Simply put the paint directly on squares of bubble wrap and encourage them to experiment with making different patterns. You can also tape the bubble wrap to their hands or feet for more experimentation.
Painting with a fly swatter can also be a ton of fun for kids. Just bear in mind that this is definitely an outdoor activity because it will get messy.
Make Your Own Games
17. Balloon Ping Pong
This is a wonderful activity for indoors or outdoors because your kids can move around and, thanks to the balloon, it's unlikely they'll break anything.
To play balloon ping pong, all you need are two paper plates, two Popsicle sticks, some duct tape, and a balloon. Make two paddles by taping the Popsicle sticks to the back of the paper plates. Blow up the balloon and then let your kits bat it back and forth. You can create your own rules to make the game more fun, like seeing how many different ways your kids can hit the balloon (e.g., underhand, backward, with one eye closed).
18. Marble Bowling
This great idea comes from Frugal Fun for Boys and Girls, and it's perfect for a rainy day when your kids are bouncing off the walls. All you need are 10 removable pencil erasers, duct tape, a board or other hard surface, and a large marble.
Create a bowling "lane" on the board or floor with the duct tape. Set up the bowling pins (the erasers) in a pyramid shape. If you have younger children, you can set down stickers to show them where to place the erasers. Then, "bowl" using the marble, either by rolling it with your hand or flicking it with your fingers.
19. Sticky Spiderweb
This is a great indoor or outdoor activity if you have some extra painter's tape on hand.
All you need to create a spiderweb is a door frame or a space between two close trees outside. Wrap the tape between the trees or door frame, then tear off smaller pieces and connect them to the longer ones to create the "web." Next, take some old newspaper and make several balls. Let your kids throw the newspaper balls at the spiderweb and see who can get the most balls to stick.
Quality Time Together
20. Do a Home Project
If your kids are older, you might be surprised by how much they're willing to help complete a home project that's been on your to-do list, especially if it directly concerns them.
For example, if you want to give their rooms a makeover before school starts again, enlist their help painting and decluttering. Head to the thrift store or visit some garage sales together to find some new bedroom furniture, curtains, or artwork they can hang up.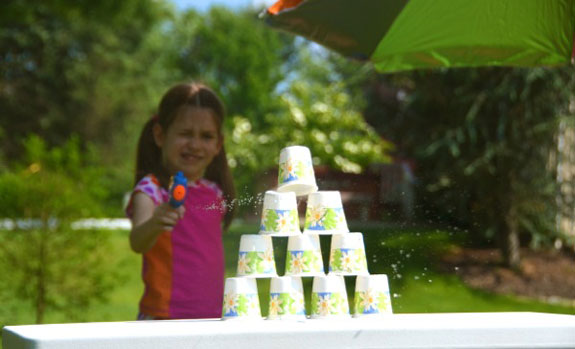 21. Do Some Good
You might not have time to volunteer with your kids as often as you'd like, especially if you have very young children. However, that doesn't mean your kids can't learn the value and reward of helping others. There are plenty of ways to do good, both at home and outside the house:
Make placemats to donate to Meals on Wheels.
Make a no-sew fleece blanket for Project Linus, a nonprofit that donates homemade blankets to children in need.
Host a lemonade stand and donate the proceeds to a charity your kids like.
Grow extra fruit and vegetables in your garden to donate to your local food bank.
Encourage your children to go through their stuffed animals and choose some to donate to Stuffed Animals for Emergencies. This nonprofit collects stuffed toys that police officers and firefighters can give to children during an emergency or traumatic situation.
Take your kids to walk dogs at your local animal shelter.
Bring some plastic gloves and garbage bags to your local park or playground and pick up trash.
Collect the board games, blankets, and toys your children no longer use and bring them to your local homeless shelter.
Go through your sports equipment (or organize a drive in your community) to collect used equipment and donate it to Leveling the Playing Field, a nonprofit that provides used equipment to underserved communities and at-risk youth.
22. Go Thrifting
Head to your local thrift store and set some rules: kids can choose something as long as it's less than $5, and they have to take it home and turn it into something else using only items they can find around the house. You might be amazed by what your kids can do with some of the random objects they pick out.
Thrift stores can also be a goldmine for other projects. You could pick up an old radio or clock and let your kids take it apart to see how it works. An old typewriter can be a great tool to help younger kids learn the alphabet and older kids learn how to spell or compose a letter. An old metal filing cabinet could be spray painted or painted and used to store toys.
23. Head to the Library
Most libraries have fun activities planned all summer long: reading contests, author events, character-themed parties, even sleepovers. Get a schedule from your local library to see what events your kids would be interested in attending.
24. Take a Class Together
If it's in your budget, you might consider taking an enrichment class with your children. Ideas include:
Group music lessons
Yoga or other fitness classes
Sewing or knitting classes
Jewelry making
Painting
Need More Ideas?
The possibilities are endless when it comes to easy, inexpensive ways to create summer fun for your kids. If you need even more ideas, try these:
Fly a kite.
Go out to eat at an old-time diner.
Collect summer wildflowers and press them in a book.
Go roller skating.
Rent a kayak or canoe.
Make tiny fairy houses outside.
Drag out an old blanket and read books outside.
Write a letter to a relative.
Go to a local fair or carnival.
Start a journal.
Build a fire and make S'mores.
Go on an early morning nature walk.
Learn which wild foods you can eat in your area and go foraging.
Let your kids cook dinner.
Bake cookies and use them to make your own ice cream sandwiches.
Learn how to find fossils. The Smithsonian has a good guide.
Get some ice cream from the ice cream truck.
Let them pick out their own vegetables at the farmers' market and then cook them for dinner.
Go stargazing.
Attend a minor league baseball game.
Go swimming at a local lake or swimming hole. You can find a great list of the nation's 10 best swimming holes is at Roadtrippers.
Host a sleepover.
Buy a joke book (or look up jokes and riddles online) and see who can memorize the most.
See a movie at a drive-in theater. There are still hundreds of drive-ins operating in the U.S.; you can find a full list here.
Go fishing.
See a community play.
Build a tree house.
Put up a tree swing.
Have a garage sale.
Organize a neighborhood picnic.
Create Opportunities to Earn Money
Do your kids get an allowance, or are they expected to pitch in allowance-free to keep the household running? Every family is different, but whether you give out an allowance or not, summer can be a great time to teach your kids about money management.
One way to do this is to talk to your kids about ways they would like to earn extra money this summer. These tasks or chores should be in addition to what they're already expected to do around the house. Create a list of money-earning chores and decide beforehand what each chore is worth.
It's also important to teach your kids how to save money responsibly, and summer can be a great time to do this. Encourage your kids to save a percentage of what they earn for a fun family trip at the end of the summer. Come up with a list of options that are within your budget and let them choose a destination from this list. This way, you won't end up going somewhere you can't afford, and kids will feel empowered because they're choosing a trip they really want to go on.
You could also encourage your kids to start their own business. Some options include dog-walking, starting an Etsy or eBay store, and becoming a tutor for younger kids.
Make Them Earn Screen Time
Every parent has to battle with the dos and don'ts of screen time, and it gets even harder during summer vacation. One option is to treat screen time as its own currency. Instead of earning money by doing extra chores around the house, your kids could earn a half-hour of screen time instead.
Christine Burke, a writer for Scary Mommy, is a work-at-home mom who came up with a brilliant schedule for her kids' summer vacation. Her children have to do one hour of reading, one hour of creative building or crafting, one hour of exercise (any type is fine as long as they're moving their bodies), and one hour of chores before they can watch one hour of television.
This scheduling worked out great for Burke's family because the kids always knew how the day was going to unfold, and they were in charge of what they did for each hour's "theme." Burke benefited because the schedule gave her day some normalcy and she was able to get her work done in a reasonable amount of time. For work-at-home parents, a schedule like this could be a lifesaver.
Final Word
Summer can be an incredible time for children, and it has the potential to shape their lives in very special and unique ways. After all, there's no other time in life when they'll have as much freedom, and as much energy, as they do now. Harnessing both of those things by allowing boredom and structured activities to take place can build character, deepen family bonds, and help create special memories.
What are your go-to activities for summer fun for your children? Do Share!